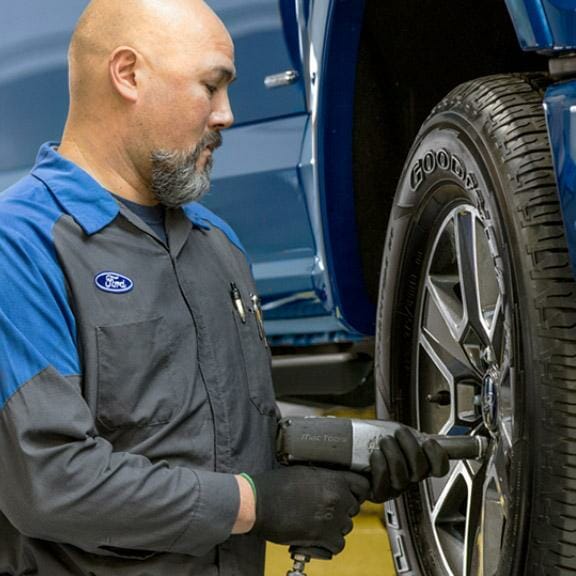 The Works® Package is Ford Motor Company's comprehensive service featuring essential vehicle inspections, tests, and an oil change. When you bring your Ford vehicle into a dealership, you can expect the high-quality service we strive to uphold. Each technician is certified and knowledgable of Ford vehicles. Their experience and knowledge translate to The Works Package, so your vehicle can stay in the best shape. Oil changes are crucial to a vehicle's health. Here at Ford, we want to offer an affordable solution when it comes to oil changes. Of course, we don't want to offer just an oil change.
Our Works Package covers up to six quarts of Motorcraft® oil and a Motorcraft oil filter. In addition, it includes the following:
Tire rotation
Pressure check
Brake inspection
Vehicle checkup
Fluid top-off
Battery test
Filter check
Belts and hoses check
As you can see, The Works Package includes everything you need to keep your Ford vehicle up and running properly. Once a Ford technician completes The Works on your vehicle, you can start enjoying the benefits in no time.
Benefits of Regular Oil Changes
On average, most vehicles need an oil change every 5,000 miles. However, the age of your vehicle will determine the exact amount. It is important to get regular oil changes. The purpose of oil is to lubricate and cool the engine. Without it, parts of the engine will heat up more than they should. Subsequently, the parts will begin to warp and function less effectively. Eventually, if there is not enough oil in the engine, it could sustain permanent damage. Be sure to save money by getting a regular oil change.
Better Performing Engine
Oil is an essential component within an engine. In order for an engine to run smoothly, it needs oils. The purpose of oil is to cool, lubricate, and clean. As parts within the engine rub against each other, oil coats the surface to keep the metal from warming up and becoming damaged. With a regular oil change, you can ensure your engine will have the proper amount of oil to get the job done. Without oil, the engine will run less effectively and could lead to costly repairs.
Reduced Emissions
Oil makes your engine more efficient, which will lead to fewer emissions. Subsequently, fewer emissions help the environment. Plus, some states require emissions tests. If your vehicle does not pass an emissions test, then you are looking at lofty fines and being unable to register the vehicle with the DMV. Be sure to research if your state or area requires an emissions test.
Improved Fuel Economy
Since your engine will be running smoothly from regular oil changes, your engine will run more effectively. The engine will operate to the best of its ability and reduce the amount of fuel consumption. The less money you are spending on fuel, the better.
Extended Engine Life
Oil helps keep all the moving parts in an engine running smoothly. As long as that oil is present, your engine will continue to run. Over time, the oil will get dirty, collecting dirt and other unwanted particles. The oil itself will also change. Since the substance is constantly heating up and cooling down, it is guaranteed to go through some chemical changes.
Overall Health Checkup
When you bring your Ford vehicle into a dealership for The Works Package, a technician will examine many components of your vehicle. Our package includes a top-off service, tire rotation, filter check, and more. All of these inspections and tests help your vehicle stay in tip-top shape. If an issue ever does come up, we will inform you right away. Our technicians will even suggest the solution and schedule a time for you to return.
Don't Miss an Oil Change with The Works
It is crucial you do not miss your regular oil changes. Oil changes are very beneficial for your vehicle's engine and overall health. A regular oil change will continue to keep your vehicle in good shape. Our Ford technicians will look over your vehicle in more aspects than one.
First and foremost, they will change the oil in your car. The Works Package covers up to six quarts of Motorcraft oil. They will also replace the oil filter with a Motorcraft filter. In addition to the oil change, the technicians will inspect your brakes, tire pressure, other filters, belts, hoses, and run a battery test. The technicians will even top-off other fluids in your vehicle, such as windshield wiper fluid and antifreeze.
Locate a Ford Motor Company dealership today in order to receive The Works Package. You do not want to miss this great deal!